Wildebeest's Guide to Dog-Friendly Summer Activities
Jun | 24 | 2019
The season of summer is rife with high expectations. Between school break, big vacations, and songs and movies memorializing this time of year, the pressure to have an action-packed summer can feel intense.
Luckily, with beest by your side, it's easy to find an activity you'll both love! Celebrate summer with some of our favorite warm-weather activities:
---
Sign Up For A Class
With the sun setting later, there's more time to take advantage of the day! Utilize the extra daylight by signing up for a class with your pup—local shelters and training groups offer everything from basic obedience to agility. Don't forget to bring your Beestie's favorite treats and your choice of Treat Pouch to maximize your training!
Plan A Camping Trip
Taking your pup camping is a fantastic way to bond with them and appreciate the great outdoors. A site like BringFido is a great resource to discover dog-friendly sites for backpacking, car camping, and more in your area. A marshmallow roast for the humans and a squirrel-sniffing session for the pups will remind your entire group what you love about nature.
Make Homemade Treats
The best way to beat the heat is with some extra tasty frozen snacks. These homemade frozen dog treats are sure to be a pup pleaser, and they're good for them, too! Whip 'em up and get those tails wagging.
Take A Hike
Your dog loves daily dog walks, but mixing it up with a hiking trip will get them even more excited. Prepare your pup for hiking and use a site like AllTrails to find a dog-friendly route in your area to make some memories in the wilderness. Just be sure to keep an eye on the heat index and pack the gear to keep them hydrated on-the-go!
Hit The Water -- Bear, Lake, or Kiddie Pool
While those of us in San Francisco are lucky to have the beach in our backyard, being landlocked need not put a damper on summer fun! Pack a waterproof leash and find a lake or creek near you, or even repurpose a kiddie pool to be a pup play area when the sun is scorching.
With your pup in tow, any summer adventure can be a blast! We hope this inspires you to get out there and soak up the sun, teach 'em a new skill, and explore while the days are longer.
Wildebeest creates everyday essentials that help you build that special bond, share adventures big & small and make amazing memories with your Beest. We'll be right there every step of the way, with our gear & Wild4Life Warranty in tow, supporting you & Beest all throughout the lifetime of your companionship!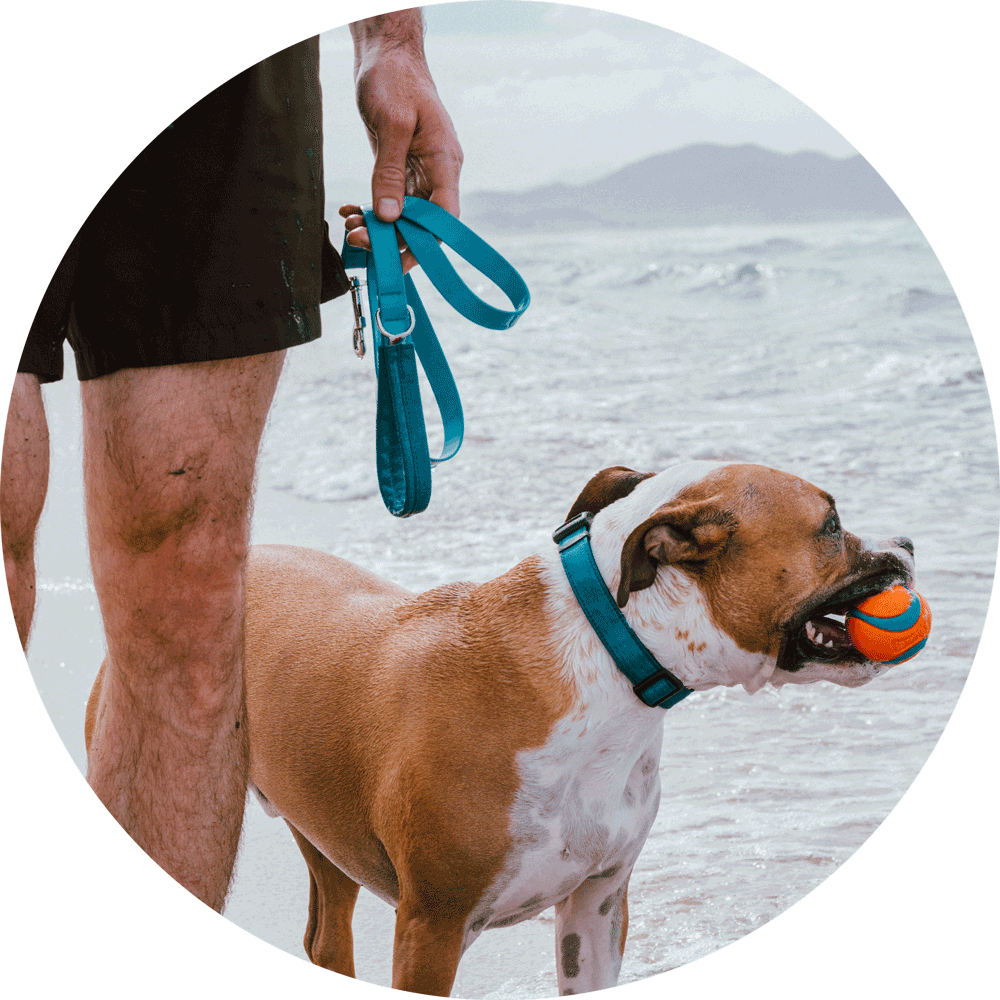 Funston Summer Essentials
Our Funston Leash, Baggie and Collar were truly designed for everyday adventures. Get geared up and be on your way to making special memories this Summer with Beestie in tow!
SHOP FUNSTON