All Weather Dog Jacket
Regular price
$55.00
Unit price
per
Liquid error (pdp-images line 105): Could not find asset snippets/icon-zoom.liquid Enlarge
Regular price
$55.00
Unit price
per
out of stock

out of stock

out of stock
Super versatile dog jacket that's truly made for any weather and any adventure.
Keep your Beest dry, comfy, and looking their best in the wind, rain & snow.
Read on to find out more!
Versatile Outerwear
We were pretty blown away when we first discovered the fabric we now use for the All Weather Jacket. Lightweight, breathable, and featuring a waterproof Dintex® membrane inside, it was the perfect material to inspire us down the path of making doggy outerwear that was versatile enough to go from chilly & windy to rainy & snowy.

Only a few necessary details were added to make this highly engineered fabric functionally wearable for our Beests, letting the material speak for itself and perform all day, every day and through any weather, any adventure.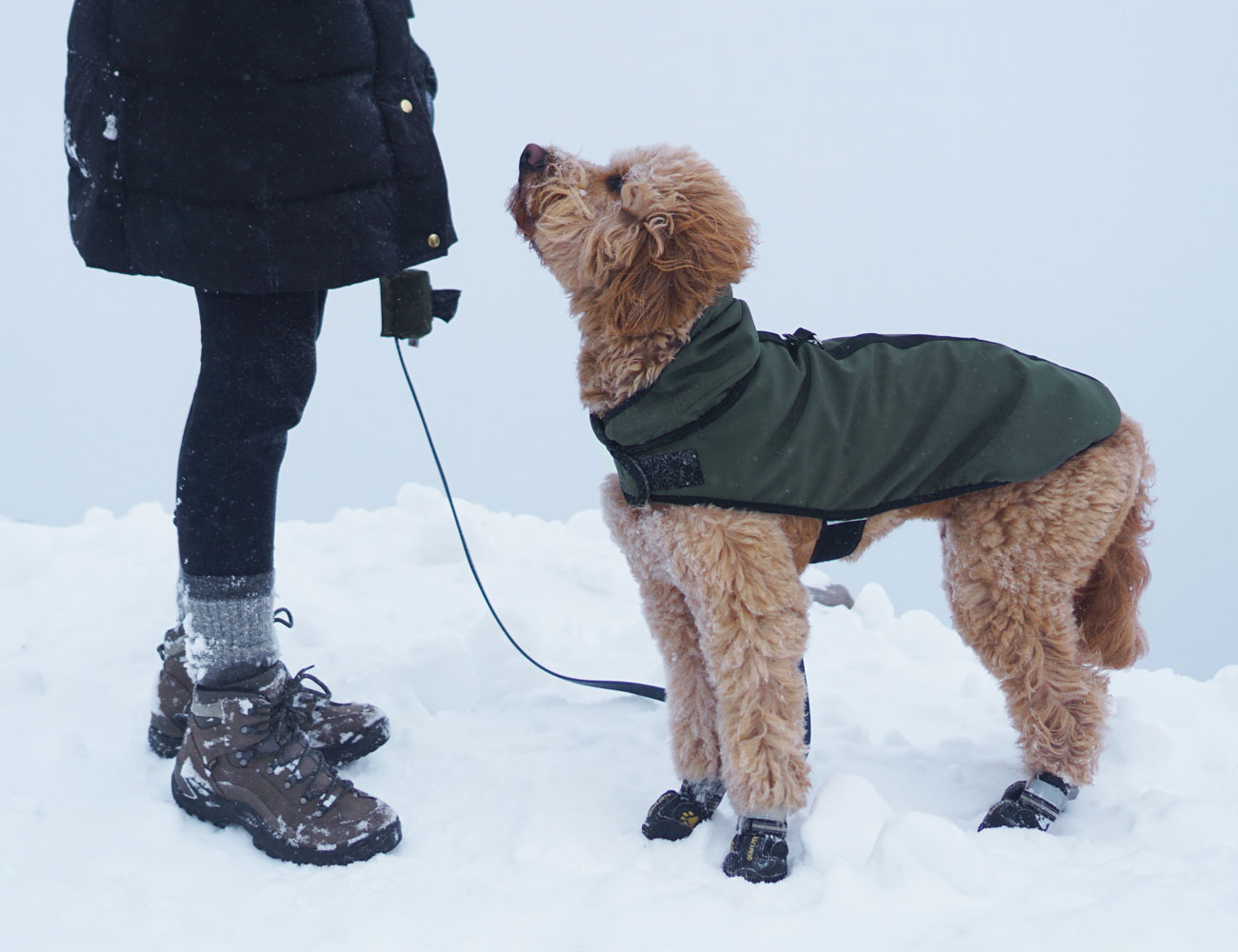 Wild4Life Warranty
We get it. Dog gear gets outgrown, chewed, worn and torn.

That's why every Wildebeest product is covered by Wild4Life Warranty. It's a way of showing our commitment to support you & beest throughout the lifetime of your gear!
This is our second jacket! We got a red one at first and it's our favorite! The fit is excellent, it's durable and quality is wonderful! We hope you bring back the purple. Our goal is to own one in every color :)
Kanika C.
My dog loves this jacket. Me too! He stays comfortable all day...any day. I'm impressed by this jacket's details and fine workmanship. Likely to be our favorite for all time!
Melissa H.
"My dog has really long legs, so I was worried about the fit. It fits him perfectly! It also really easy to get on- love that you don't have to pull it over the head. He also stays really warm in it! "
Krystle L.
Both our dogs wear this coat. It looks great on them and keeps them dry. It dries fast and is durable. Also, the design is right for boy dogs to be able to do leg lifts in without messing the coat.
Ellen S.
It is a great jacket. Our dog loves it. He really doesn't like the rain but now he is going outside for his walk, all because of this jacket. The materials are also really nice!
Sharleen K.
Reviews

Really Nice - Peanut Loves Ot

Got this coat for my boy peanut. It for him perfect and he does not want to take it off. It's nice and warm and the rain protection has been nice recently. It is very well made and the little head covering is awfully cute. We'll done.

Thanks, Chris!

We are so glad to hear that Peanut loves his jacket so much! Wishing you and peanut the best!

Easy to put on, lots of compliments

This jacket has been perfect for the recent rainy weather in California. Very high quality, water repellent, and functional. Only drawbacks is that the hood is hard to use when wearing a collar on walks- it works better when there's a harness underneath the jacket.

Let us be yet another compliment, your pup looks great Michael!

Thank you for your feedback, and for sharing such sweet photos with us!

Cute Jacket

Looks cute on my dog, but it's a bit small and the medium was too big.

Warm, easy to put on jacket for my mini poodle

We both like this new jacket for the wet, windy Western Oregon winter weather. I like it because it covers my dog's body and head well and it is simple to put on. My dog likes it because it is fast to take off and on! First attempt at size was too small so I sized up to the medium which is perfect. The D ring on the top means I don't have to also put on his harness to take him for a walk safely. Great product!

Thank you so much, Claire!

We are glad we were able to get your pup into the right size, and that you are loving it!

great

I love the quality material they use. Warm and soft inside and waterproof outside. It makes my pup so handsome. Plus the great customer service is always there to help:). THANK YOU

Hiya, Lillian!

No, THANK YOU so much! We really appreciate you! We're sure your pup looks adorable regardless, but we're glad the jacket helps! :)