5 Tips To Get Your Dog Ready For Hiking Season
Mar | 06 | 2018
The chill of winter is fading away, meaning it will soon be prime hiking season for you and your beest! Whether you have a seasoned adventure pal or a young pup excited for their first spring in the wild, these tips will make sure you and your best friend are prepped and ready to enjoy your wild adventures.
---
1. Take the Road Less Traveled
Just like breaking in your hiking boots to keep your feet happy, your dog's endurance level is an important factor in how comfortable you'll be on the trails. The usual walk around the block is less stimulating to a dog's senses than exploring the great outdoors, and walking in all-terrain environments will put a different kind of strain on their body. To help prepare your dog's muscles (and nose!), try walking new routes around town or embarking on a few "urban adventures" before you hit the backcountry. Another great way to build endurance is by teaching your dog how play frisbee. Jumping high in the air to catch the frisbee will help build their reflexes, strength, spatial awareness, and stamina.
2. Refresh Those Manners
Depending on where you're hiking, hitting the trails on a busy weekend might feel more like a group nature walk than a wilderness adventure—meaning your pup will be exposed to all sorts of new humans and dogs. Even if you're going to a less populated area, your pup will still experience a plethora of smells and stimuli that might tempt them to ignore even their most familiar commands. Taking some time to refresh your pup's memory of directives and leash manners will help their good behavior transfer seamlessly to the trail. Whether they're an off-leash pro or you plan to keep them tethered to your side, making sure their basic commands and leash etiquette are top notch will keep you both stress-free in any hectic situation.
3. Update Their ID tags
Dog tags are something all owners hope they'll never have to rely on, but making sure they're up to date before a big adventure never hurts. Check not only that the phone number is current and legible, but also be sure the tag is soundly secured. Brush and branches can easily snag dangling hardware as your dog romps through, so securing dangling tags or upgrading to a contoured plate will ensure they're readily identified no matter what they get in to.
4. Pack Water for Two
It's super important to stay hydrated while you're out & about especially on warmer days. Don't forget to pack enough water for you AND pup according to your activity plans. Having an ultra-compact portable bowl on hand will keep your load light while offering peace of mind that pup won't go thirsty on the trek.
5. Keep The Right Supplies
You probably already keep a first aid kit with your hiking supplies, but adding a few tools to make it equipped for dogs and humans will keep you both safe and comfortable should an accident occur. Most of what a dog might need in the wild overlaps with a human's first aid needs, but there are a few canine-specific supplies to bring. From itchy bites to splintered paws, knowing you're prepared for anything is the best way to have fun without worry. If you want to put together your own hiking first aid kit for your pup, ASPCA Pro has a downloadable list to ensure your ready for hiking season.
6. Be Ready for Any Weather 
Unfortunately, even the most pleasant days can give way to showers, chill, or sweltering heat in an instant. Make sure that you and your adventure pal are prepared for any weather so you both stay comfortable and content! The proper outerwear for your pup will provide protection against damp chills, while booties provide traction in the event of slick mud. Additionally, overheating is a concern for some breeds regardless of where the thermometer lies. If this applies to your pal, pack enough water to wet down fur should they start to get too warm. For more sever situations, you can also use a small amount of rubbing alcohol on their paw pads, and other vet approved methods to keep your dog from overheating. When planning for your adventures, simply equipping the right gear will allow you and your Beest to tackle any weather with ease!
7. Camp much?
Are you the type of pack that's into adventures beyond day hikes? Spending the night outdoors with your pup is a whole different experience and can be so special and magical. Pitching the tent, preparing the meals, enjoying a campfire and stargazing... give you & Beest a chance to slow down, unwind and reconnect with nature together. We highly recommend a camping adventure for any Beest, but keep in mind that it does take a more in-depth preparation and packing prior to your adventure. Check out these handy tips from campingcooks.com. 
Happy Hiking & Beyond!
Wildebeest creates everyday essentials that help you build that special bond, share adventures big & small and make amazing memories with your Beest. We'll be right there every step of the way, with our gear & Wild4Life Warranty in tow, supporting you & Beest all throughout the lifetime of your companionship!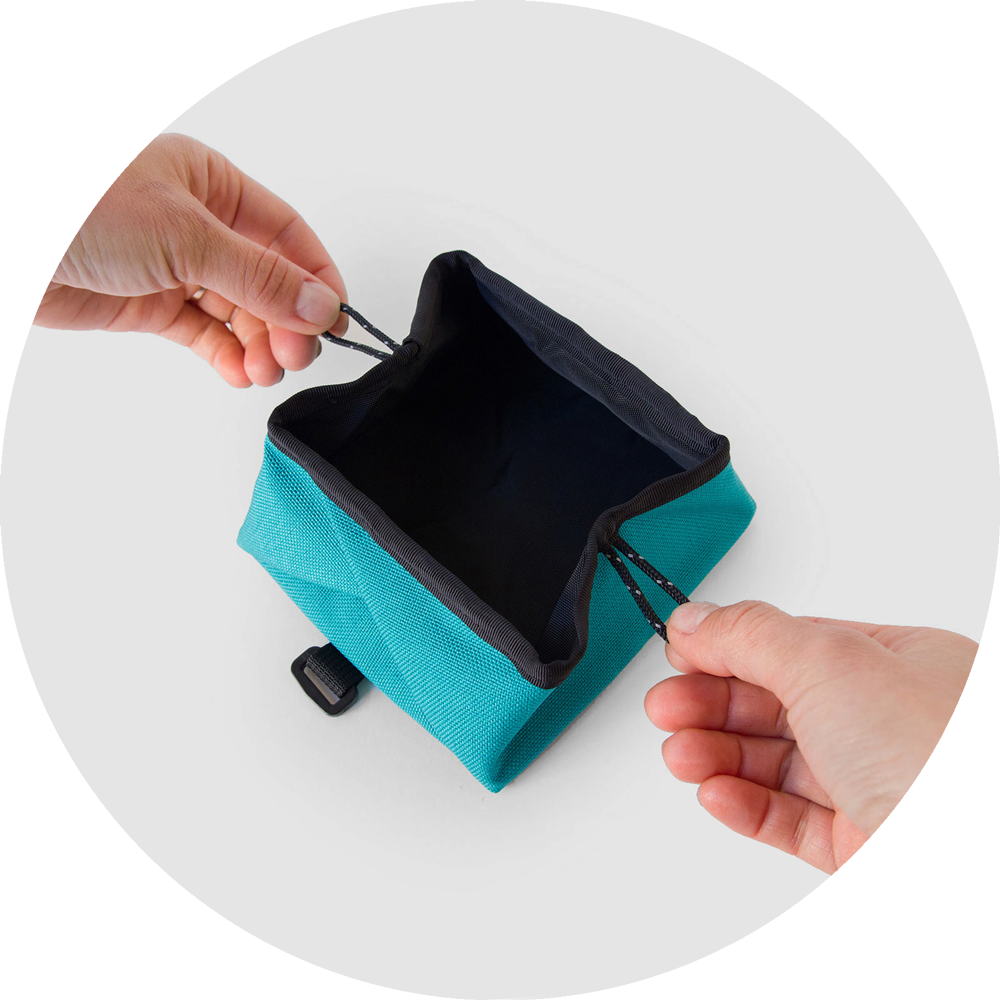 Bring 'Em On Your Next Hike!
Water & snacks are essentials for making your hike with Beest enjoyable. Our treat bags + travel bowls are perfect for the occasion!
TREAT BAGS + BOWLS