Preparing for the Holiday Season with your Dog
Nov | 13 | 2023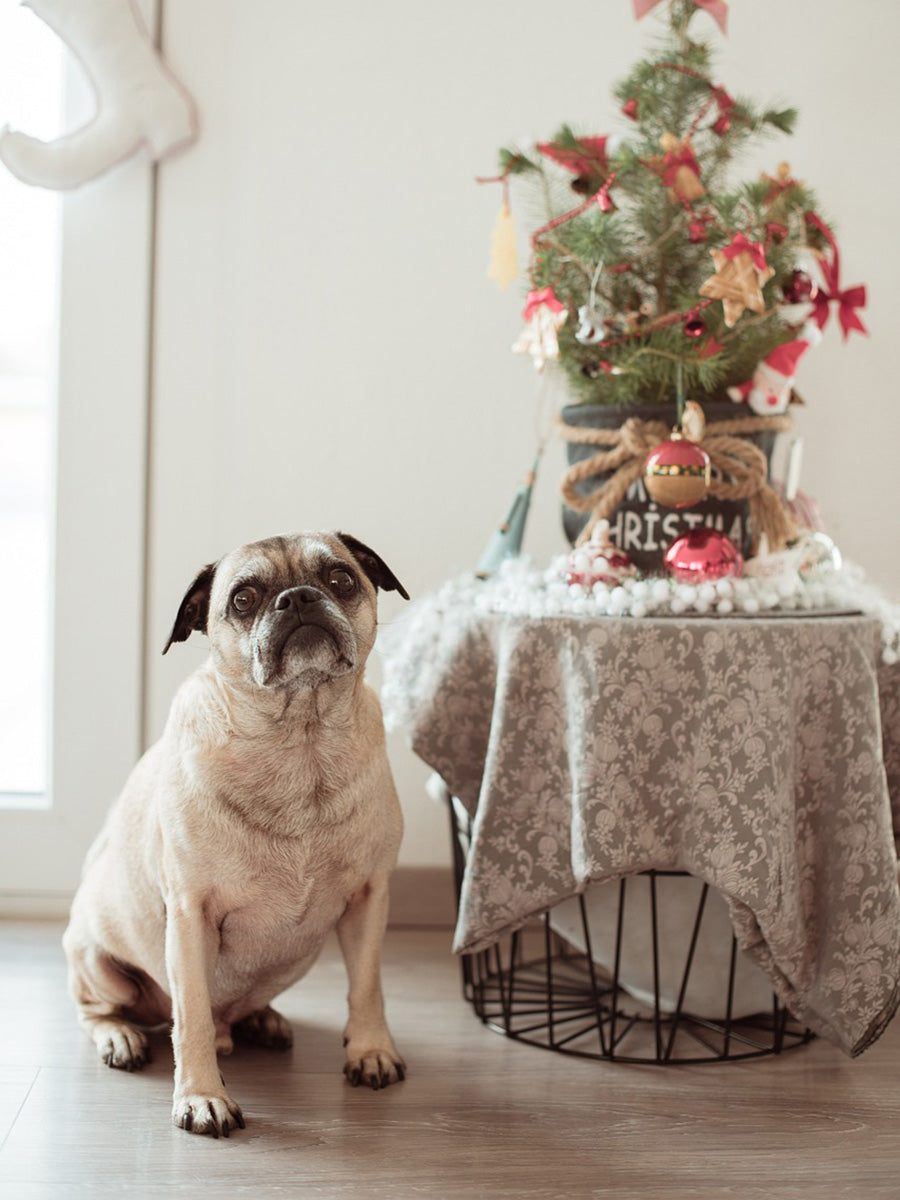 The holiday season is a time for joy, celebration, and spending quality time with loved ones, including our furry friends. As the festivities approach, it's essential to make the right preparations to ensure a safe and enjoyable holiday season for you + Beest. Whether you'll be spending the holidays at home / someone else's home, leaving your beest behind, or traveling with them, here's a guide that will help you plan and prepare.
---
Celebrating At Home
If you're planning on spending the holidays at home or with family / friends, you may think that preparing your pup might be a bit silly, but keep in mind that dogs thrive on routine and consistency. Having something out of the ordinary from their regular routine can cause an over or under-stimulated dog, which can make them anxious and stressed.
Here are some tips to help:
Make sure to create a cozy space or room for your pup to relax in during the festivities, away from the hustle and bustle and include their bed, crate, or blanket.
Stock up on their favorite toys and treats to keep them entertained and occupied throughout the day / night. Consider a highly engaging toy or treat such as a frozen lick mat / Kong or a buffalo horn. This will eventually tire and help stimulate their brains to keep your dog calm, anxious-free and less likely to act out.
Establish boundaries and educate guests on how to interact with your dog, especially if they are not used to being around pets. If you're bringing your dog to someone's home, discuss beforehand on what boundaries they want to implement and try to bring them over before party day to get them familiar with the new place.
Be mindful of the holiday decorations, such as Christmas trees and ornaments, which can pose potential hazards.
Know what foods your pup can and can't have and make sure everyone knows what you're okay with feeding them or if you will allow any feeding other than treats / dog food. See our Holiday Food Safety Guide for a printable flier that's easy to stick on the fridge or save to your phone.
Take your dog on a long walk before your guests start to arrive to get out any extra energy they'll have.
Traveling With Beest
Traveling with your dog during the holiday season can get a bit stressful for them and yourself. Whether it's your very first time traveling together, flying on a plane or road tripping it, doing early research on what you'll need will prepare you for a successful journey. Here are some tips to help prepare you both for travel:
Make sure your beest is up-to-date on their vaccinations, flea and tick preventatives, has had a recent health check-up, and has no medical issues / concerns that may prevent them from travel.
Invest in a sturdy comfortable travel crate or carrier that is appropriate for your dog's size and breed, if you're flying make sure to check your airlines requirements on pet carrier size. Familiarize your pup with the crate / carrier before the trip, remember to make it a positive and comfortable space for them.
Pack all the necessary supplies in a bag to keep close by, if you'll be flying with them in the cabin, make sure you have the appropriate supplies in your carry on bag. If you're road tripping, have an easy to reach bag with just your pet's essentials, including some food, treats or chews, a portable water bowl + water, a favorite toy, and medications they may need.
Bring a familiar blanket or item that smells like home to provide comfort during travel and place it in their carrier or pet bed.
Plan your travel itinerary with your dog's needs in mind, including regular potty breaks, exercise opportunities, and rest stops.
For anxious dog travelers, consider bringing CBD treats or calming chews to help ease some of their stress. Make sure to consult your vet to figure out what works best for your dog.
More on how to prepare for your trip, head to our Traveling With Your Dog Guide.
Away Without Beest
If you're leaving your dog behind or not traveling with them during the holiday season, there are still steps you can take to ensure their well-being while you're away. Keep in mind that it will probably be harder on your pup if they aren't used to not having you around for a few days. Set them and their caretaker up for success whether you're leaving them somewhere familiar or new. With an array of options from dog boarding apps, hotels / facilities, or a recommendation from a friend or family member, it's important to research and find the option that best suits your pup's needs. Here are some tips to help prepare:
Find a trusted and reliable pet sitter or boarding facility to care for your pup while you're away. Make sure to provide detailed instructions on your dog's routine, feeding schedule, behaviors, medications or allergies, and rules to implement.
Leave them with familiar items, such as their bed or blanket, to provide comfort while you're away. Also consider leaving a piece of clothing with your scent to help ease any separation anxiety they may experience.
Plan a trial stay a few weeks before with your sitter to see how your pet does before actually leaving.
Stay in communication with your sitter through video calls or messages to check on your dog's well-being and to help keep your mind at peace.
Have a back-up plan in case an emergency occurs whether it be your sitter or your dog. Provide a secondary person to contact that is local and can step in while you're away. Also provide your dog's vet or hospital phone number and address.
Before leaving your dog, ensure their bag is packed with not only their daily essentials but also proper identification, vaccine documents, a list of emergency contacts, and properly functioning gear (leash, collar, harness) to help ensure their safety.
For a more detailed guide on this topic, check out our Guide to Pet Boarding & Sitting.
---
Celebrating the holidays with your dog requires careful planning and consideration but remember, the holiday season is about making new and special memories with your loved ones. Whether you plan to stay home or travel with or without your pup, taking the time to make thoughtful preparations will ensure a safe and enjoyable holiday season for both you + beest + those celebrating with you.
For more holiday content like our Holiday Gift Guide or DIY Holiday Dog Treat Recipes, check out our Holiday Blog Series linked here !
Happy Holidays, Beesties!
Wildebeest creates everyday essentials that help you build that special bond, share adventures big & small and make amazing memories with your Beest. We'll be right there every step of the way, with our gear & Wild4Life Warranty in tow, supporting you & Beest all throughout the lifetime of your companionship!