Wildebeest's Guide to "Collar or Harness?"
Sep | 10 | 2018
We know that a big part of bonding with your pup is taking them out for walks, but when it comes to picking the right equipment, it can be difficult to know where to begin. Between flat collars, Martingale collars, and back- or front-clip harnesses, how do you know what's best for Beest?
Considering things such as your pup's leash behavior, what training skills you'd like to work on, and any breed considerations that might point you toward certain equipment is a great place to start. From there, learn as much about each product as you can! To help with your research, we've put together an overview of the four basic styles, so you can start your next adventure knowing you're prepared:
Traditional Collar
The traditional collar is what most dog owners choose, and it's the most convenient of the bunch. They're comfortable enough for everyday wear and an easy place for Pet ID Tags. However, because many pups quickly find that they have more leash freedom while wearing a collar, for some dogs it's not the best method for encouraging proper manners. Additionally, if your dog's breed is predisposed to respiratory issues, the pressure of a collar can lead to coughing fits or health risks as your pup ages.
For most pups that are already established in their leash manners and owners who want a no-fuss solution, the collar is a great mainstay for dog gear. As long as you choose a model with a secure buckle and smooth design so pup stays safe and comfortable, the collar can be a great, convenient option!
Martingale Collar
Originally designed for sighthounds due to the group's slender head and neck, the Martingale collar has grown in popularity across many breeds both for training and functionality. While the bulk of the collar is the same as a traditional design, the D-Ring attachment is on a second loop to provide tightening action when the leash is taut.
Martingale collars are a great training solution for dogs that can easily back out of collars or who need subtle correction on adventures. They provide the ideal blend between a comfortable, relaxed fit while still being a no-choke training solution to help hone in on getting the right kind of leash behavior on walks.
Back-Clip Harness
Back-clip harnesses have been growing steadily in popularity, both for small and large breeds alike. The back-clip design evenly distributes the leash pressure, so while the design isn't recommended for strong pullers it can assist in other types of leash manners such as responsiveness.
A back-clip harness also alleviates pressure around the throat, making it a safer solution for dogs with slender necks or breeds prone to respiratory issues. While stiff nylon designs aren't the most comfortable for all-day wear, the wide selection of supportive + comfortable models on the market are crafted to secure your pup in comfort all day long.
Front-Clip Harness
Front Clip Harnesses go by many names: no-pull harness, chest harness, and training harness are just a few. Due to their unique design, front clip harnesses are typically preferred for training exercises and obedience work. Because the leash attaches at the chest, the front ring reorients the dog when they begin to tug, discouraging them from putting pressure on the leash. For heavy pullers or dogs that tend to greet others with a jump, they're an extremely helpful tool.
While a front-clip harness isn't necessary for leash training, they are an effective solution to hone in on manners and obedience in a safe way. This is why they're popular for a variety of dogs, from puppies just learning leash skills to grown dogs that are advancing their training.  
While there's no concrete answer to what walking method is best for YOUR Beest, learning about the pros and cons of each will hopefully help you make the decision! As you and your pup's needs and activities change, being open to different options and trying new things will help you both be comfortable and safe wherever your adventures take you.
Wildebeest creates everyday essentials that help you build that special bond, share adventures big & small and make amazing memories with your Beest. We'll be right there every step of the way, with our gear & Wild4Life Warranty in tow, supporting you & Beest all throughout the lifetime of your companionship!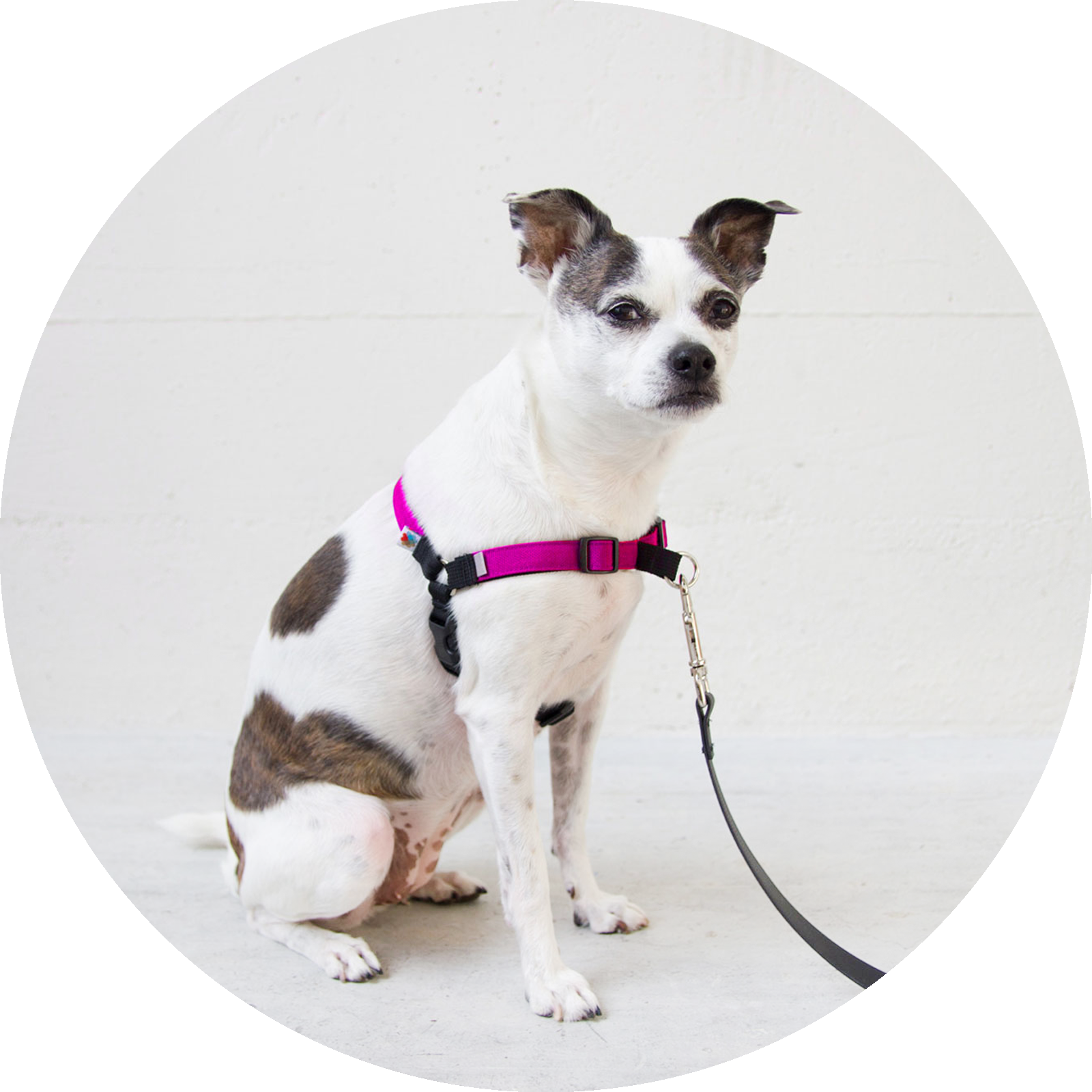 Find Gear That's Right For Your Pup
We make an array of collar and harness options to serve different sizes, shapes & needs of dogs. Reach out to us if you need help finding the right gear for your Beest!
SHOP COLLARS + HARNESSES