8 Pawsome DIY Dog Halloween Costumes
Oct | 27 | 2021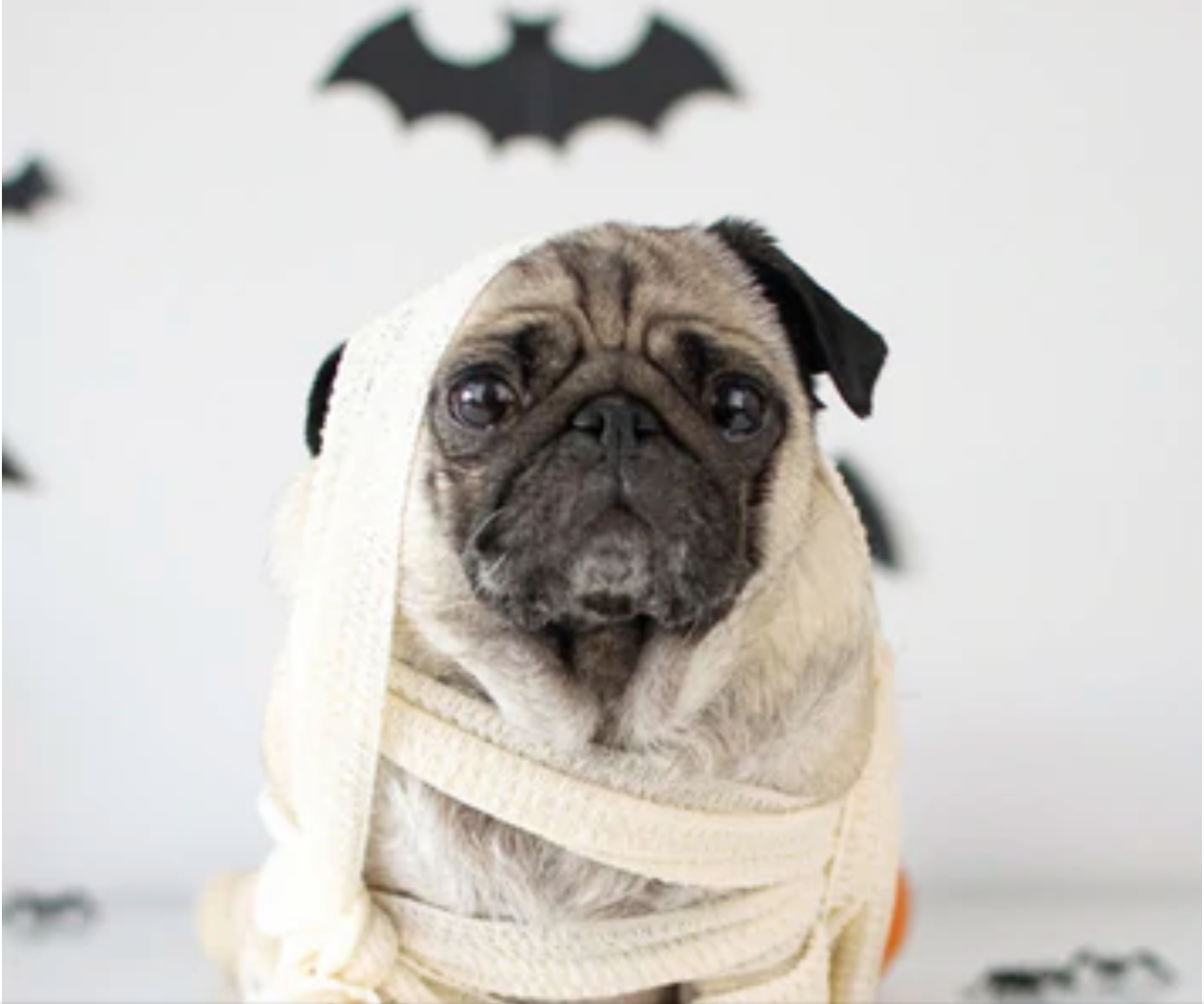 Temps are falling, days are shortening, & the spookiest day of the year is right around the corner! While a sharp All Weather Jacket is the essential fall staple, it wouldn't be Halloween without doggie costumes.
Whether you're going to a puppy Halloween party or just taking an extra long walk around the block, these DIY costumes are easy to make, comfortable for pup, & sure to get the neighborhood talking.
1. Ghost Dog
Heather Handmade
A classic costume that's also perfect if your short on time. But what if you want to take your boo-thang to the next level. Transform your pup into one of the cutest and iconic ghost dogs of all time.
2. Pup Witch / Wizard
Another good old classic you can never go wrong with: a Witches & Wizards! The main item is of course the hat, and you can get creative with the rest - a cape, dress or just a piece of tulle scarf around the neck will get you in the spooky mood!
3. Squid Gamer
Who hasn't watched the Netflix series "Squid Games" Yet? This show's been wildly popular since it came out this Fall (2021) and has been trending all over social media and is sure to be a hot new Halloween costume option this year. Why not dress up your pup as a player or worker -- they'll definitely be the talk of the block!
4. Dinosaur / Dragon Dog
Dinosaur or dragon? Either way, it's adorable. Combining a small hoodie with felt scales makes for pups that are festive and cozy as you trick or treat into the evening.
5. Sushi Roll
This tasty looking costume just uses velcro and felt, so it's inexpensive and easy to create. It's the perfect costume for any size doggo and is great if you need costumes for multiple pups in your pack... the more the sushi the better!
6. S'more Treats, Please
You already know your pup is the sweetest, so why not show them off? This s'mores costume comes together easily with some basics and will harken the cozy memories of autumn nights around the fire.
7. Pup-kin Latte
What could be cuter? Your dog dressed up as your favorite sweet treat! This is a fun creative costume that requires minimal supplies to put together and can be customized to your favorite coffee shop.
8. Mummy Dog
Possibly the most simple costume you can throw together last minute. But a solid option nonetheless! Prepare ample about of rolled gauze or bandage (some elasticity may help keep it on pup) to cover your pup sufficiently. Stay clear of their face / snout and private parts so they can breath + go potty conveniently. If you want to spookify this costume even more, add some fake blood to the bandage!
Whatever you end up dressing up as, be safe out there this Halloween and most importantly -- HAVE FUN, Beesties!
Wildebeest creates durable, stylish dog gear. Equipping your best friend for all of your adventures while providing a Wild4Life guarantee, we're committed to creating products the entire family will love.