25 Dog Friendly Places in San Francisco (2023)
Jul | 11 | 2023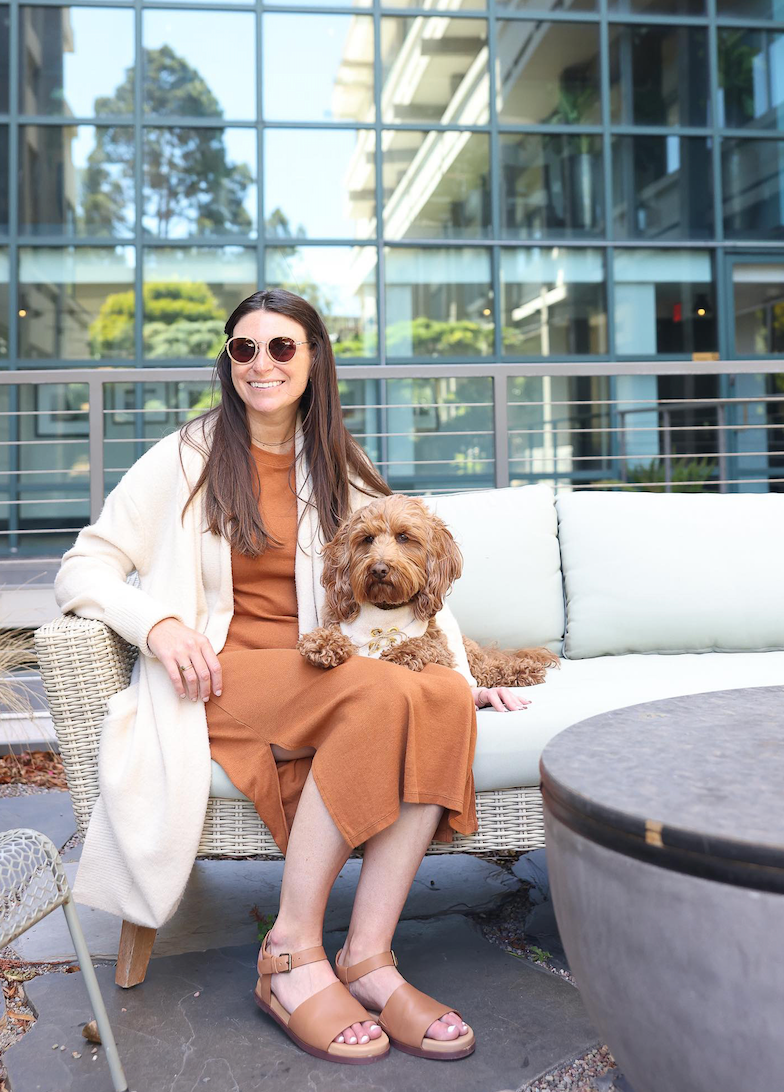 San Francisco is one of the most dog friendly cities in the country. If you're not local to the Bay Area, you might assume that you can bring your dog anywhere in San Francisco, which is not entirely true. While most places love to see your four-legged fur friends or welcome them in with a dog water bowl or tasty treats at the entrance, not all businesses / environments allow pets in their establishment, unless they are a service animal. As locals, we thought it would be helpful to put together a list of places that are guaranteed to welcome your Beest with belly rubs and treats. 
Whether you're visiting the city, wanting to explore new spots, or training your pup for social interactions, we've got a place for everyone's taste!
---
Cafes & Restaurants
1. Park Chalet
This spacious and dog friendly restaurant is located at the end of Golden Gate Park, near Ocean beach. This spot makes for a great place for brunch or to grab a quick drink after walking your beest on the beach. Park Chalet offers indoor and outdoor seating and recommends your dog to be on leash. Park Chalet
2. Stable Cafe
Stable Cafe, our go-to, is in the heart of the Mission District. This is the perfect place to sit out on the patio and enjoy a cup of coffee or lunch with your pup on a sunny day. Patio seating at Stable is beautiful and covered in greenery, and they welcome any big or small four-legged fur baby. Stable Cafe
3. Zazie
Zazie's is a French bistro in Cole Valley that is popular and well known for their delicious brunch plates and cocktails. They offer patio seating and insist you to bring your dog along especially on Monday's as they host "Dog Night" and offer $10 off on a bottle of wine for the humans and unlimited treats for the pups. Zazie
4. Novy
Novy is located in Noe Valley and is a woman and family operating restaurant. They are Mediterranean influenced and are known for their great food and customer service, Pups are welcomed in their outdoor patio everyday of the week! Novy
5. The Ramp
Located in Mission Bay, The Ramp offers spacious tables, outdoor seating with a great bayfront view for you and your beest, and live music / entertainment. Great for brunch! The Ramp
6. Wildseed
Wildseed is a restaurant located in Cow Hollow known for their superb cocktails and seasonal vegan cuisine. They offer various outdoor seating options and are often packed, so make sure to book a reservation ahead of time so you don't wait too long with your dog. Wildseed
---
Beaches
7. Crissy Fields
With the Golden Gate Bridge as its backdrop, Crissy Fields is a beautiful place for a walk or to take your pup for a swim. Certain parts, such as the East Beach, are off-leash approved but can get pretty packed with tourists and other dog owners so be sure to plan accordingly. It also tends to get pretty windy so bring a jacket to stay cozy as you stroll along the shore. Crissy Fields
8. Baker Beach
Known to be one of San Francisco's best beaches that's dog friendly with a superb view of the Golden Gate Bridge. Dogs are allowed to be off-leash but not recommended to swim as the waves can get unpredictable. Baker Beach
9. Lands End / Mile Rock Beach
This beach is part of Land's End trail and is not a widely popular dog beach as it's a long walk down (0.5-1 mile) with a steep trail to the beach but is great for more adventurous Beesties. Dogs are allowed to be off leash. For an epic view of the Golden Gate Bridge make sure to hike to Land's End Lookout Point, which is definitely worth the walk. Mile Rock Beach
10. Ocean Beach / Great Walkway
If you're looking for a huge beach with lots of walking room and sand to dig for you and your pup, Ocean Beach is the perfect place. Dogs are required to be on leash all year round. Also, in 2022 San Francisco voted to keep the Great Highway by the beach car-free and bike and family friendly on the weekends for the next 3 years. So be sure to experience the coastal promenade the next time you & pup are visiting Ocean Beach. Ocean Beach
---
Parks
11. Fort Funston
A local and well-known park in the city that is filled with various trails and places to explore with your pup. During the spring season there are coyote alerts, so be mindful of keeping your dog on leash, but off leash dogs are welcome throughout the park. Fort Funston
12. Upper Douglass Dog Play Area
This is a recreational play area, great for all sized dogs and can be off leash.Your dog must be up-to-date on their vaccinations and non-destructive. Cleaning up after your pet is highly encouraged to maintain the park. This park is enclosed yet large enough to get a good amount of exercise, make sure to bring along a ball or frisbee. Upper Douglass Dog Play Area
13. Alamo Square
Alamo Square has one of the most iconic views with the infamous "Painted Ladies". Dog mom and content creator, Dianna, and her pup Raylan love this park and is one of their go-to spots for play dates or a nice stroll. "The views are my favorite part, I'm a big fan of Full House so I love seeing the Painted Ladies!" Alamo Square
14. Golden Gate Park
Looking for a massive park to get lost in? Golden Gate Park has so many paths to explore and is one of the most popular parks in San Francisco. Filled with large grassy fields, trails, meadows, and picnic areas, you'll never run out of places to explore. Golden Gate Park
15. Glen Canyon

This 66.6 acre recreational area includes scenic hiking trails and large open areas for you and your dog to explore together. Glen Canyon Park is one of San Francisco's significant natural resource areas filled with important plant species. Dogs are required to be on leash. Glen Canyon
---
Social Hangouts
16. Tornado Pub
This local pub is located in the Haight and offers an assortment of craft beers. This is a great place to hang out with friends and pups are welcome if they are on leash. Tornado Pub
17. El Rio
A queer neighborhood bar located in the Mission District, that offers a backyard patio along with dancing and live music, all are welcome, including your beest. It can get pretty packed on special event nights, so be sure to plan accordingly if you plan to bring your pup. El Rio
18. Palm House SF
A colorful hangout spot with a tropical theme perfect for meeting friends and family for happy hour. Located on Union Street, this bar welcomes pup's with their very own lei and lots of treats. Palm House was voted to be one of the Bay's "most dog-friendly restaurants". Palm House SF
19. Barebottle Brewing
In the mode for a good craft beer? Barebottle has various amounts of craft beers and food trucks. They have 2 locations, one in Bernal Heights and the other at Salesforce Park. They are very dog friendly and offer outdoor seating! Barebottle Brewing
20. Spark Social SF
Located in Mission Bay, Spark Social has something for everyone. Filled with food trucks, games, and lots of outdoor seating, this is a great and dog friendly place to hangout at. There are a number of food vendors and even a dog vending machine. Spark Social SF
21. Zeitgeist
A long time Mission District institution, Zeitgeist is a bar and beer garden known for its huge craft beer selection (64 on tap), bloody marys and outdoor patio with picnic tables. Pups are welcome to hang with you in their back yard but remember it can get crowded especially on those warmer days! Zeitgeist
---
Sightseeing
22. Cable Car
Take your dog on a sightseeing tour of the city on the cable car. 1 pet per car is welcome to ride during non-peak hours (5-9am and 3-7pm on weekdays). Pups must be leashed and on their parent's lap or sitting right next to them. Cable Car
23. Bay Cruise
A 60-minute tour of the bay on the Blue & Gold Fleet with your pup. You'll be able to enjoy views of the Golden Gate Bridge, Alcatraz, Pier 39 and much more. Dogs must be leashed or in a carrier and well behaved in order to board. Bay Cruise
24. Hotel Kabuki
Located in Japantown, this hotel is a great place and location to stay if you're planning on traveling with your dog. Bay Area local + doodle mom Melanie and pup Ruby, visited Hotel Kabuki and enjoyed their experience. "We felt safe walking at night and didn't experience any boundaries. We were able to take Ruby almost anywhere in the hotel (not the gym or attached restaurant). It's walking distance to a lot of dog-friendly things and close to grass…" Hotel Kabuki
25. Coit Tower
An iconic San Francisco landmark that is a must see if you haven't yet. Bring your dog along for a scenic hike up to the top of the tower to get a breathtaking view of the city's skyline view. Pup's are recommended to be on leash and able to walk up and down a few flights of stairs. Coit Tower
---
Plan your next trip to the busy city and don't feel guilty for not being able to bring your pup along. With restaurants, trails, parks and social gatherings, there's plenty to keep yourself and Beest engaged and making new memories together. Traveling to a different city? Stay tuned for more dog friendly city guides to come!
Wildebeest creates everyday essentials that help you build that special bond, share adventures big & small and make amazing memories with your Beest. We'll be right there every step of the way, with our gear & Wild4Life Warranty in tow, supporting you & Beest all throughout the lifetime of your companionship!